The Ultimate Guide to Campers, Caravans and Motorhomes in India
Ever since the appearance of COVID-19 and the need for holidays with proper social distancing, India has witnessed an increasing interest in caravans, campers, and other such "Homes on Wheels". Going forward, the popularity of such driving holidays where you can stay and sleep in your own vehicle is likely to grow, so here is the most "Complete Guide to Caravans and Campers in India".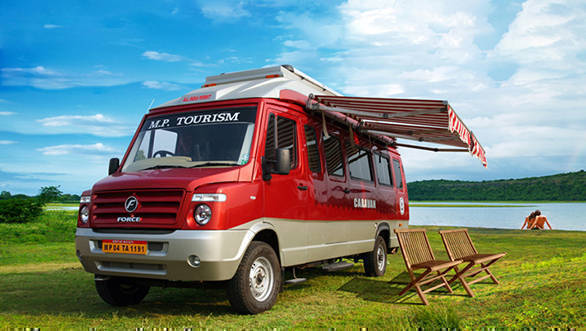 M.P Tourism was amongst the first in India to offer caravans for "Holidays on Wheels".
This exclusive "Ultimate Guide to Campers, Caravans and Motorhomes in India" has insightful content spread across a dozen detailed features and includes 112 visually appealing photographs, and about 11,500 words of very useful information.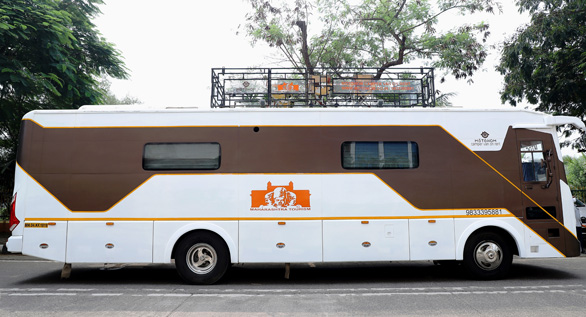 This MTDC Motorhome is rented with a driver and attendant and can accommodate four to five guests.
The MTDC motorhome has an inviting rooftop terrace, which is ideal for al fresco dining or even star gazing.
In our "Complete and Comprehensive Guide to Caravans and Campers in India", we have featured caravans and motorhomes offered by innovative state tourism bodies like MPT (Madhya Pradesh Tourism) and MTDC (Maharashtra Tourism Development Corporation).
These luxury campers have an outdoor barbecue kit, awning with wind sensors and also an external shower.
There are also some very fine luxury caravans approved by ARAI (Automotive Research Association of India) and operated by Tiger Ramesh, an entrepreneur from the tech industry and keen wildlife enthusiast and photographer. Amongst his marquee angel investors are former Indian team captain and legendary cricketer Anil Kumble, international musician Vijay Prakash, Subhash Dhar – ex-worldwide head of sales and marketing Infosys, Phaneesh Murthy from the IT industry, etc.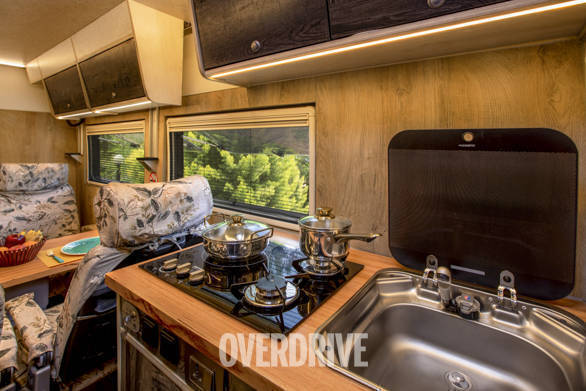 The big kitchenette in these luxury campers comes with an induction stove and gas, a microwave, toaster, electric kettle, etc.
We have featured a very unique and off-beat campervan called Taurus, in which Captain Suresh Sharma, and ex-Indian Army officer personally drives and takes his guests far away from the beaten path.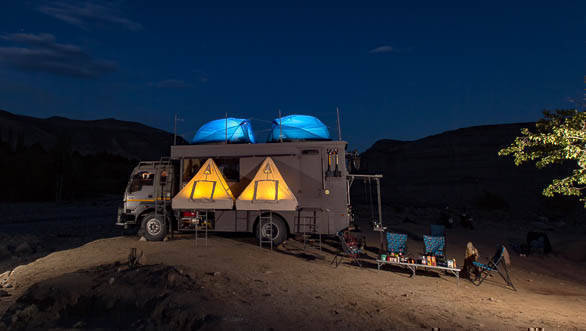 Captain Suresh Sharma's Taurus, offers outdoor holidays in the most difficult to access destinations.
The side and roof tents are one of the unique features and highlights of Taurus.
There is an inventive expandable caravan named Finetza, which is both stylish and luxurious and delivers on demand additional space due to which a cabin with a sofa, converts into a full-size bedroom!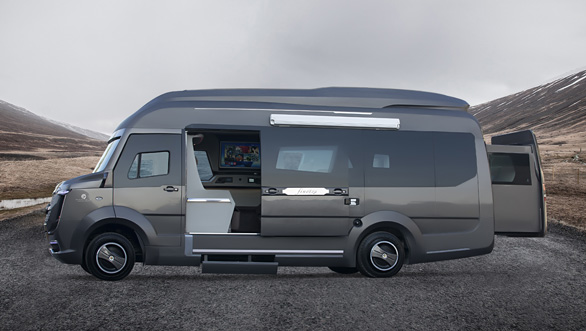 This stylish and luxurious motorhome has an inventive expandable space at the rear and sliding doors and an automatic footstep for easy ingress.
The stylish interiors are tastefully done with high quality materials and good fit and finish.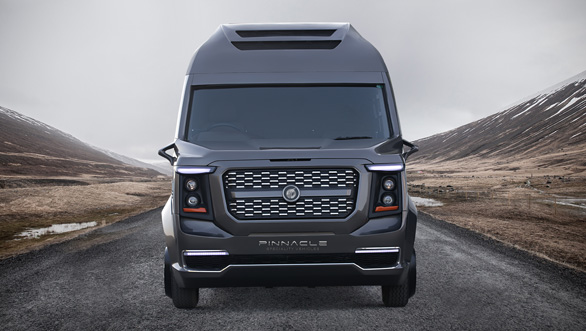 It has arresting street presence and swanky styling.
We have also covered a Force Traveller transformed into an "Office on Wheels", something that is very useful and the need of the hour in these WFH (Work from Home) times.
Instead of working from home, you can now work and travel in this "Office on Wheels".
The interior has a clever design and facilities suitable for both work and relaxation.
Then there is a self-drive Mahindra Marazzo campervan that has customized storage boxes in the boot, one of which also slides out and holds amongst other things a gas stove, refrigerator, crockery, cutlery and some ready to cook packaged food and beverages.
This Mahindra Marazzo Campervan can be rented from MTDC for a self-drive motoring holiday.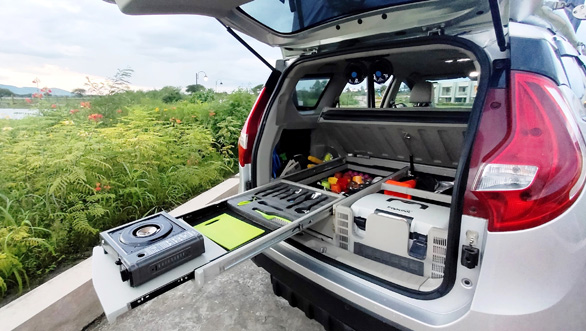 The boot has custom built expandable cabinets that house things like a gas stove, crockery, cutlery, etc.
Those who want to explore beyond tarmac, can opt for self-drive SUVs with tents mounted on the roof. These also come with some outdoor gear and cooking equipment.
These self-drive SUV campers come with a foldable rooftop tent, BBQ grill and gas, cutlery kit with cooking utensils and camping chairs and tables.
In case you want to look at custom conversions, there is a Nissan Evalia and Ford Endeavour custom built with pop up roofs or tops, hot showers, portable toilets, etc.
A Nissan Evalia converted into a campervan, has a pop top or fold out roof, which provides a pleasing upper sleeping berth.
This modified Ford Endeavour has a pop top and also a folding toilet shelter with a portable pot that can be put up at the rear.
Adding to the various "Holiday on Wheels" options is a camper trailer imported from the USA which can be towed by the primary driving vehicle.
The prime mover vehicle of this US made towed caravan, is a Tata Xenon pickup.
You can also add vivid colours to your vacations with some campervans with psychedelic paint jobs.
These campers have bright and artistic paintwork and are equipped with a stove, utensils and spices to cook a proper meal.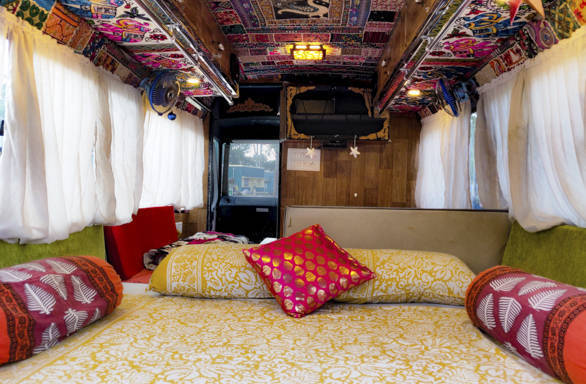 Bright artistic paintwork and colourful interiors are the hallmark of these campervans.
And in case you are missing your clubbing, we bring you a party bus that is a "Nightclub on Wheels".
The Party Bus or "Nightclub on Wheels".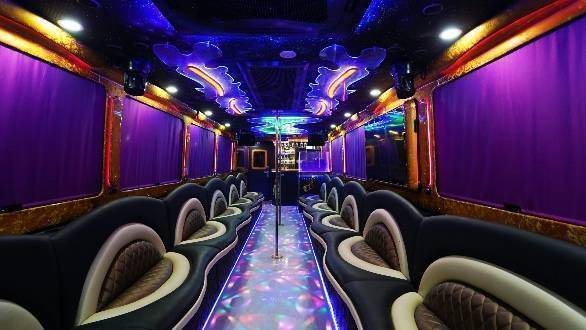 The lounge area in this "Party Bus" has a dance floor, sound system, smoke machine, neon lighting and a well-stocked bar too.